AIKIDO HEAVEN & EARTH (合气道天地)
We offer quality teaching in all aspects of Aikido including the study of weapons, bokken and Jo. Our school is affiliated to Malaysia Aikido Association and Aikikai Aikido World Headquarters (Hombu Dojo), Japan.
ABOUT AIKIKAI AIKIDO school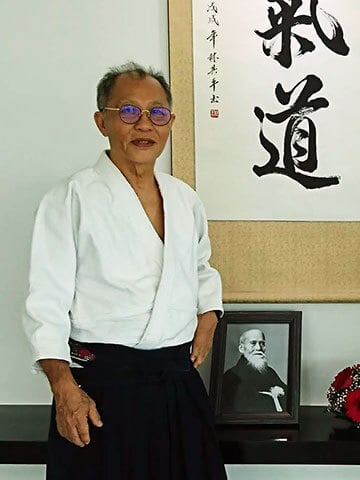 The Aikido Heaven & Earth Juku (school) was founded by Sensei T.S. Low, 6th Dan in according to the teaching and ideas of our sensei, the late Seiichi Sugano Shihan, 8th Dan.
Low Thian Seng Sensei
6TH Dan Aikikai Aikido
Dojo-cho
Aikido Sensei@ Seri Emas International School
Senior Counselor and Head of Examination and Teaching Committee of Malaysia Aikido Association (for black belts grading)
Low Sensei was born in 1951 and is married with 4 children.
Low sensei started his martial arts training at an early age of 15. He started with Shito-Ryu Karate during his secondary education in Klang.
In 1976 he practiced Yang Style Cheng Man Qing Tai Chi for more than 10 years. In 1989 he discovered the Art of Aikido at YMCA Bricksfield. Since then training in Aikido has never stopped up to today.
In between the years Low Sensei had also picked up martial arts such as Japanese Shorinji Kempo and the Japanese National Heritage martial arts of Sword fighting Tenshin Shoden Katori Shinto Ryu under the guidance of the late Hironobu Yamada Shihan.
In recent years he also practices the Chinese Internal martial arts of Sun Style Xing Yi and Bagua with Ivan Ang Laoshi the 4th generation linage of Sun Style Internal Martial Arts.
Low Sensei started his aikido training locally at YMCA Bricksfields KL in the early days with many seniors Malaysian Instructors.
From 1996 to 2016 he was a student of the late Japanese master Hironobu Yamada Shihan, 8th Dan and had a short sting staying in Narita, Chiba, Japan.
In 1999 the Malaysia Aikido Association was privileged to be under the tutelage of Seiichi Sugano Shihan 8th Dan until his death in 29th August 2010.
Besides, Low Sensei also trained with many great names of aikido masters like Hiroshi Tada Shihan, 9th Dan, Ikuhiro Kubota Shihan 8th Dan, Tony Smibert Shihan 7th Dan, Robert Botteril shihan 7th dan, Hanan Janiv Shihan 7th Dan and many others masters.
A brief past history of Low Sensei's achievments in aikido:
| | |
| --- | --- |
| 1993 - 1998 | Chairman of the YMCA Aikido Club |
| 1993 – 1998 | Chief Instructor of YMCA Aikido Club |
| 1999 – 2009 | Vice president of Malaysia Aikido Association |
| 2009 – 2017 | President of Malaysia Aikido association |
| 2017 – Current | Senior Councilor and Head of Examination and Teaching Committee of MAA |
| 1998 - 2001 | Established the first Malaysia Aikido Association Dojo at Old Klang Road, KL later shifted to Jalan Scott, Brickfields, KL |
| 1992 – 2000 | Teach at Chong Hwa National Type High School, Gombak KL |
| 1993 – 2000 | Teaching at Kepong KL, The Valley Club Subang Jaya, MPSJ Sports Complex, Matsushita Panasonic Malaysia Shah Alam and at Universiti Malaya. |
In 2015 Low Sensei was the first person to be bestowed the decoration of THE ORDER OF THE RISING SUN, GOLD AND SILVER RAYS by the Emperor of Japan for contributing to the promotion of Aikido and enhancing cultural friendly relations between Japan and Malaysia.
To keep the legacy of his Teacher Seiichi Sugano Shihan's teaching, Low Sensei open a dojo named Heaven & Earth Aikido Juku (Tenchijuku Budo Center) at Bandar Puteri Puchong (https://tenchijuku.com)
Sensei Low also conducted Aikido talks to corporate companies such as Mercedes Benz, Lazada and many pharmaceutical companies.
At Tenchijuku Budo Center we are continuing searching and practicing the legacy of Sugano sensei's techniques together with other great Shihans' ways like Hironobu Yamada Shihan, Ikuhiro Kubota Shihan, Hiroshi Tada Shihan and most importantly Morihei Ueshiba, O' Sensei's aikido.
The school offers quality teaching in all aspects of Aikido including the study of weapons, bokken and Jo.
The school is affiliated to Malaysia Aikido Association and Aikido World Headquarters, Japan.
All are welcomed here to discover yourself and to share the good teachings of the great masters whether it is for self-defence or for spiritual development.

Class Fee and Schedule
Fee:
RM100.00 per month
Time:
TUESDAY & FRIDAY - 8:30pm - 10:30pm
Sunday - 3:30pm - 5:30pm
Contact:
Sensei Low 0162216138